By Ben Painter
4th-grade students led their town School Committee through the practices that have been supporting their mental health. What the School Committee did next shows us what is possible for mindfulness in schools.
"If I'm a little stressed or overwhelmed about school, I just take a few deep breaths and that helps me not to feel as worried. Why don't you try practicing one of my favorite ones with me?"
Shrewsbury 4th grader Aditya and his fellow mindfulness ambassadors did something extraordinary at the Shrewsbury Public School Committee School Board meeting last month. With the support of their fellow mindfulness champions and their Mindfulness Director, Jordan Grinstein, also known as "Mr. Jordan," these students opened up about the challenges they have been navigating this school year and the practices that have been supporting them.
"Mindfulness has helped me in staying calm when I'm stressed. It helps me to have better relationships with teachers, and it helped me remember questions on tests."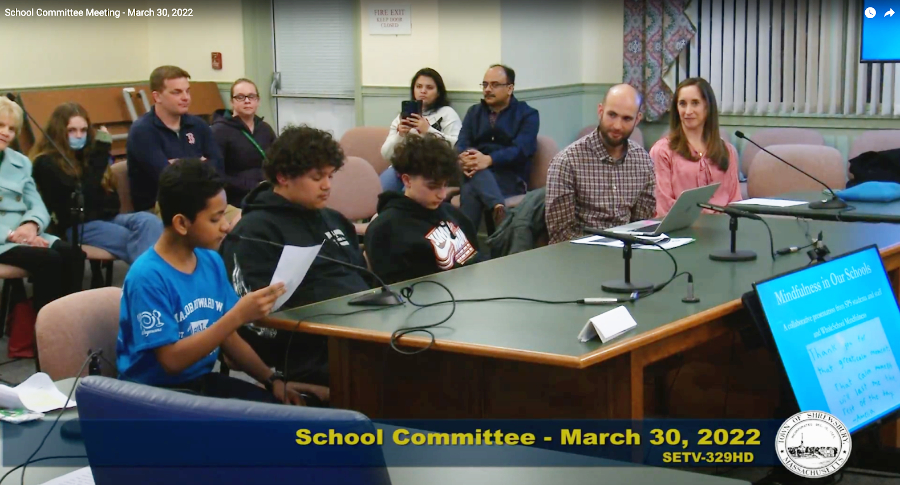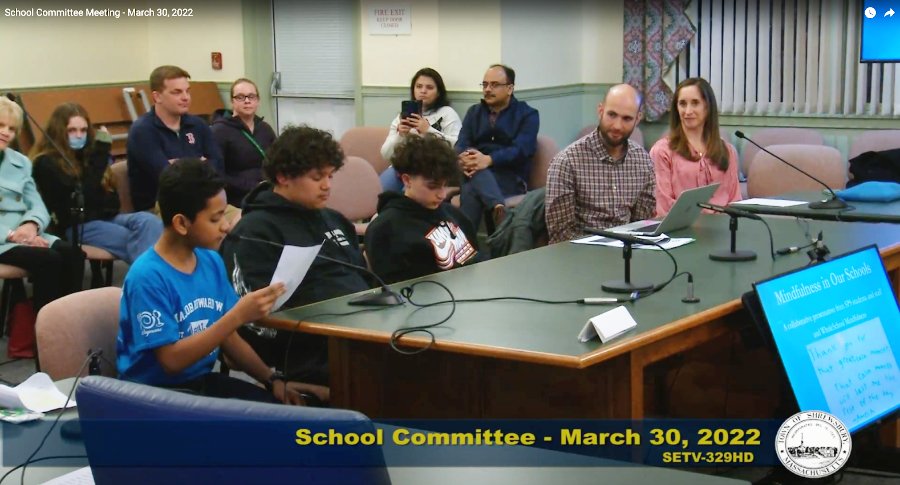 These 4th-grade students led their town school committee through mindfulness practices they have learned this year with Mr. Jordan Grinstein, the Mindfulness Director for Shrewsbury Public Schools. Jordan's work this year has been instrumental in supporting the mental health of students as they navigate the pandemic. Jordan's offerings have included creating a Mindfulness Ambassador program for 4th-grade students, weekly mindfulness sessions with students facing anxiety, and regular guided mindfulness sessions for District Leadership.
Over 90% of teachers agree that Jordan had a positive impact on the school, and over 75% of teachers say they have personally benefited from Jordan's work with students.
WholeSchool Mindfulness partnered with Shrewsbury Public Schools to launch the Mindfulness Director position in 2019. Since then, WholeSchool has supported the program at Shrewsbury through Mindfulness Director placement, professional development support, and by paying for a portion of the Mindfulness Director's salary. WholeSchool's approach is centered around an organic integration of the Mindfulness Director into the school fabric and budget of the school or district over a 3-4 year period.
Inspired by the practices of these 4th-grade students, and by the impact data that WholeSchool collected on the impact of Mr. Jordan's work in the district, the Board voted to build 90% of Mr. Jordan's salary into the budget next school year, up from 25% this year.
This move by the school committee is a major step towards the Mindfulness Director position at Shrewsbury being fully baked into the budget for years, if not generations to come. This district also shows us what is possible in school communities around the country- making mindfulness an integral part of education through hiring a dedicated, experienced, trauma-sensitive Mindfulness Director.
Shrewsbury is not an outlier in these trends. All six of our Partner Schools recognize the impact of their Mindfulness Director and are on track to meet or exceed their sustainability goals for integrating the Mindfulness Director position into their budget. Specifically, all of our Partner School sites are increasing their financial commitment to their Mindfulness Director's salary by at least 25% going into next academic year.
Now is the time to innovate to care for the needs of students, teachers, and families. If you'd like to hire a Mindfulness Director for your school or district, WholeSchool Mindfulness may be able to support you. Click here to learn more about what it means to partner with WholeSchool to launch a Mindfulness Director in your community.