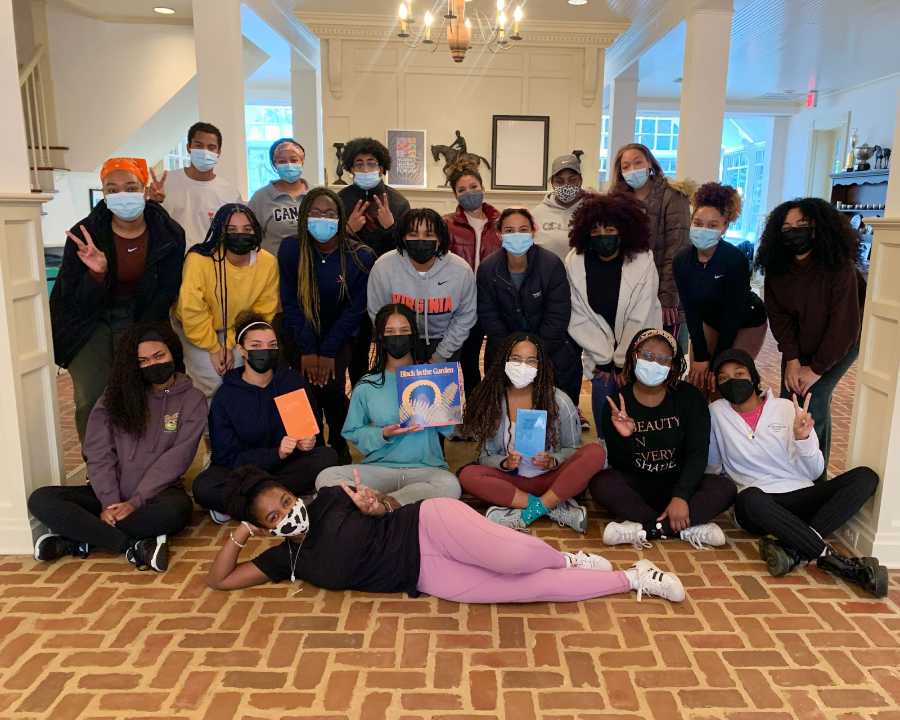 Carrington Kernodle Epperson is the Mindfulness Director at the University of Virginia. Among the initiatives she led in her first months at UVA was Flourishing While Black, a program sponsored by the Contemplative Sciences Center that uses culturally responsive yoga and meditation sessions to foster well-being and a greater sense of belonging among undergraduate and graduate students of African descent. After an exciting fall semester, Carrington launched the inaugural Flourishing While Black retreat.
A UVA alumna, Carrington brings a unique perspective to community building on campus. In reflecting about her experiences she easily recalls that "it takes a lot of work to make friends while also finding yourself—while also trying to figure out your entire life in a very short period of time." Speaking directly to the need for an antidote to a sense of urgency, one of the thirteen characteristics of white supremacy culture, Carrington continues: "You go from elementary school to middle school to high school to college and then you go to work—and when did you have time to figure out yourself and what you wanted?"
Time for turning inward is woven throughout the Flourishing While Black approach; Carrington often pairs her yoga asana and mindfulness meditation instruction with journaling prompts and guided visualizations. A champion of svadhyaya/self-knowledge (the fourth of the personal observances or "Niyama" described in the Yoga Sutras of Patanjali), Carrington transformed
the title of her initiative into a guiding question for the retreat itself by asking participants to reflect on what "flourishing while Black" means to them. Her own response speaks to the aim of the project itself: "Just being themselves". Carrington encourages participants of all of her Flourishing While Black programming to truly "Come as you are!…Show up fully as yourself"—and delights when they take her so literally as to arrive in their pajamas. "This is a non-judgemental space," she beams.
Arrival Practice
Reflecting on the semester, Carrington noted that "I feel like people are very overwhelmed and don't get the time to just breathe and be themselves." In designing the Flourishing While Black Retreat, she wanted to make sure they would connect to self, to community, and to the present moment. Rather than opening with intros, retreat day began by diving into collective movement practice in order to help the participants to "arrive fully," encouraging them to "forget everything that came before (because they were on Christmas break) and…forget everything that's about to come up in the spring semester, and…be here now."
Rather than merely being in the same space practicing similar movements, Carrington described the rigorous opening Namaskar/Sun Salutation series as a collective battle in which all participants "fight together". Using the iconic series of Virabhadrasana/Warrior poses metaphorically, she first reminds the practitioners: "You're a warrior. You've survived your worst days," allowing the truth of the statement to settle into their being. Then she acknowledges the culturally-specific mental health implications of this truth: "Let me tell you something, it's pretty toxic when people tell us 'You're so strong! You're so resilient!' Nobody wants to hear that because it's so exhausting for people like us to have to keep being strong all day every day."
By the third round of the postures Carrington reveals why approaching the yoga lesson as a collective battle is fitting: "Even though you're strong, you aren't having to do this alone. Look at how many people are in this room all doing it with you…You are supported in your journey no matter how hard it gets." Though the yoga lesson may begin with a battle, it ends with a radical act of rest in the form of a "deep Savasana"/Corpse pose. Carrington extends the common five-minute practice to ten minutes in order "to put people to sleep," adding "that's my goal because everybody needs more rest."
Carrington smiled as she reflected that "After that they were there. Then we did names so that we could know each other. That was the whole goal…deeper connection."
Catering Connections
When Carrington was an undergraduate at the University of Virgina she served as an exercise instructor and personal trainer. She gathered other Black women at UVA and formed Sistas Get Fit, a wellness and social group that would go to the gym and share meals together. "Eating healthier and doing yoga comes off as an affluent thing or a white thing," Carrington reflected. Since that time she grew more invested in making a culinary shift, remaining plant-based and developing skill (and a more than a little Instagram notarieity) as a mushroom forager. Given all of this, it's no surprise that one of the highlights of the retreat was a lunch that felt like a culinary act of advocacy.
Carrington sought out a Charlottesville-based Black-owned restaurant specializing in vegan Caribbean cuisine. "They didn't know it existed," she exclaimed, noting that for most of the participants, it was not only their first vegan fare, but their first experience with Caribbean food. "I think a lot of people…talk about the diaspora and forget about the Caribbean," adding that the "Afro-Latino/Latinx students in the group…were really appreciative" for the detalle/special note of attention.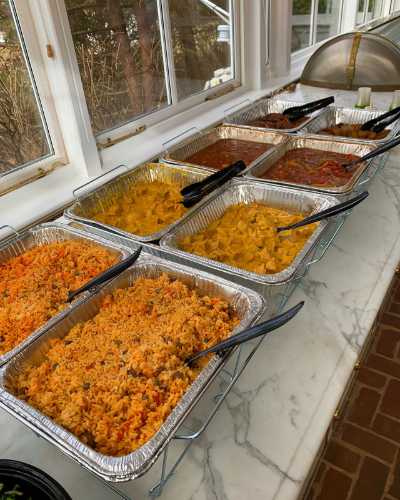 The Power of Creativity
This year the Contemplative Sciences Center has been emphasizing the integration of the arts into contemplative practices. Carrington believes that creativity is not limited to the performing or visual arts, but includes "creating solutions to your life problems as well." Toward that end, participants in the retreat were offered a bright, Fully Bloomed Shop journal of their choice, each cover emblazoned with color-coordinated motivational phrases like "Thank you, Sun" and a reminder that "The grass is greener where you water it." The star of the visual artistry component was Black in the Garden, an adult coloring book celebrating Black plant parents making literal the act of "flourishing while Black," paired with both classic and skin-tone-inspired "Colors of the World" Crayola crayons and colored pencils. For Carrington, this epitomized "the power that art can bring," adding that through these tools participants were "using art to create as a gateway" to "stimulating that creative naturalness in ourselves."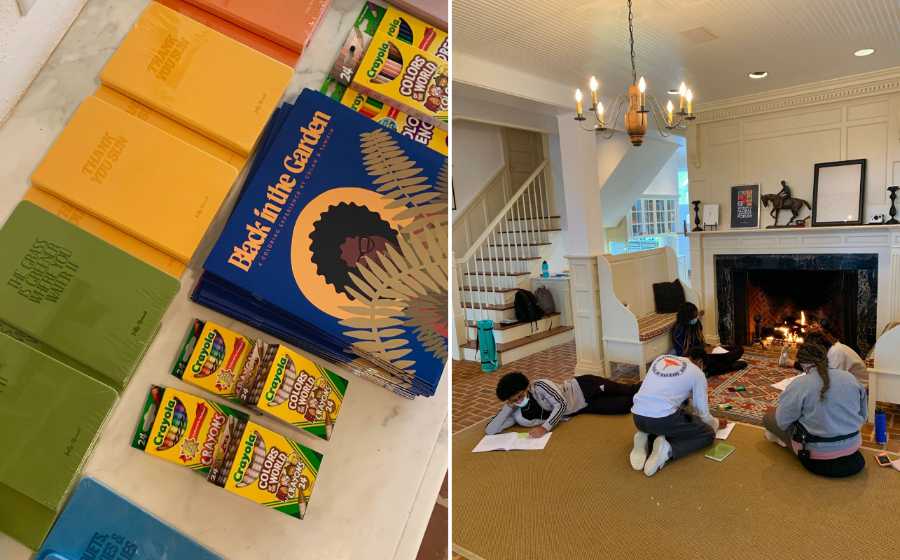 In addition to the visual arts, performance played a key role in the Flourishing While Black Retreat. Carrington teamed up with WholeSchool Partner and steward of Community & Professional Development Charisse Minerva to provide a drumming and dance meditation to round out the day's events. "Culturally we never see that, never get to experience drumming like that," Carrington noted, adding "if you're not an [African Studies] major…you're definitely not going to find those experiences on your own just by default by being at the university." One of the students of the group co-facilitated the accompanying dances, further integrating participants by supporting leadership from within. Amidst the joy of these practices emerged the sweetness of Santosha/contentment: "just being to be".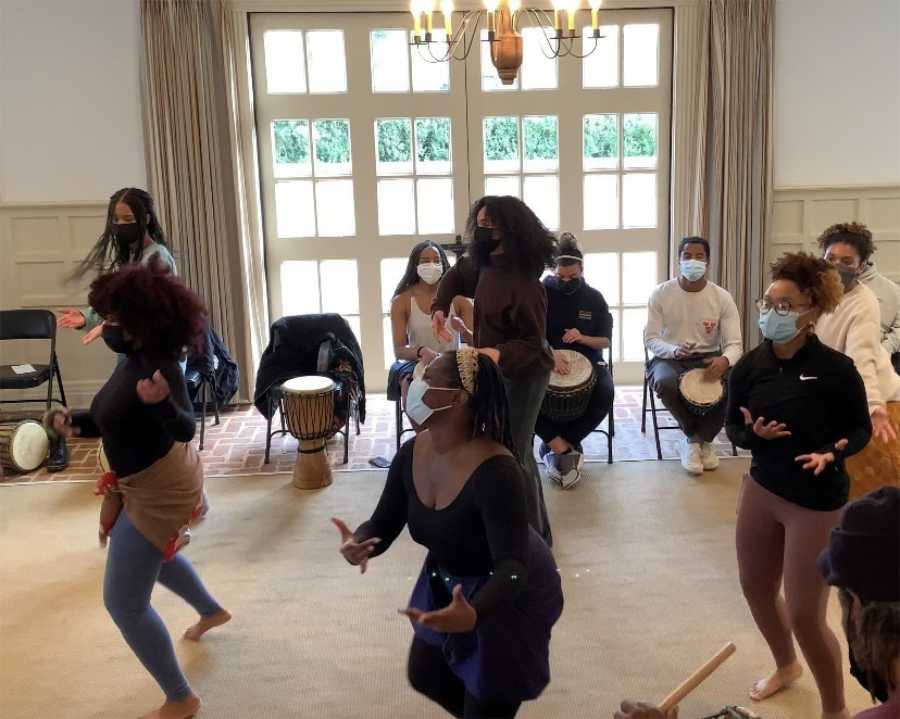 Continuing the Thread
Carrington continues to expand the work of the Flourishing While Black program, including two extracurricular courses this semester: Santosha for Sisters and BIPOC Mindfulness Meetup. Working at the intersection of education, mindfulness and social justice, Carrington also creates and leads programming for other affinity groups, including LGBTQIA+ and first-generation students, in addition to her programming for the University of Virginia community at large.